He must be a Pez Pal, but is he a knight, a mexican, a fireman. Hmm maybe you know. I just put him up for sale on ebay and he already has a bid. Among others. I've been collecting for over 20 years. WOW. I have some in bags (without dot com on package design), but not much newer stuff. Anyway, check out the sale if you want. But mostly I thought I'd share a couple of pics of the ones I know are rare. Have fun.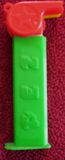 Jack is my personal fav. Most of these are 3.9. A lot of these are not posted yet, but soon. Hope you enjoy looking at them!
sale Sorry, This list will have a bunch of other stuff too.